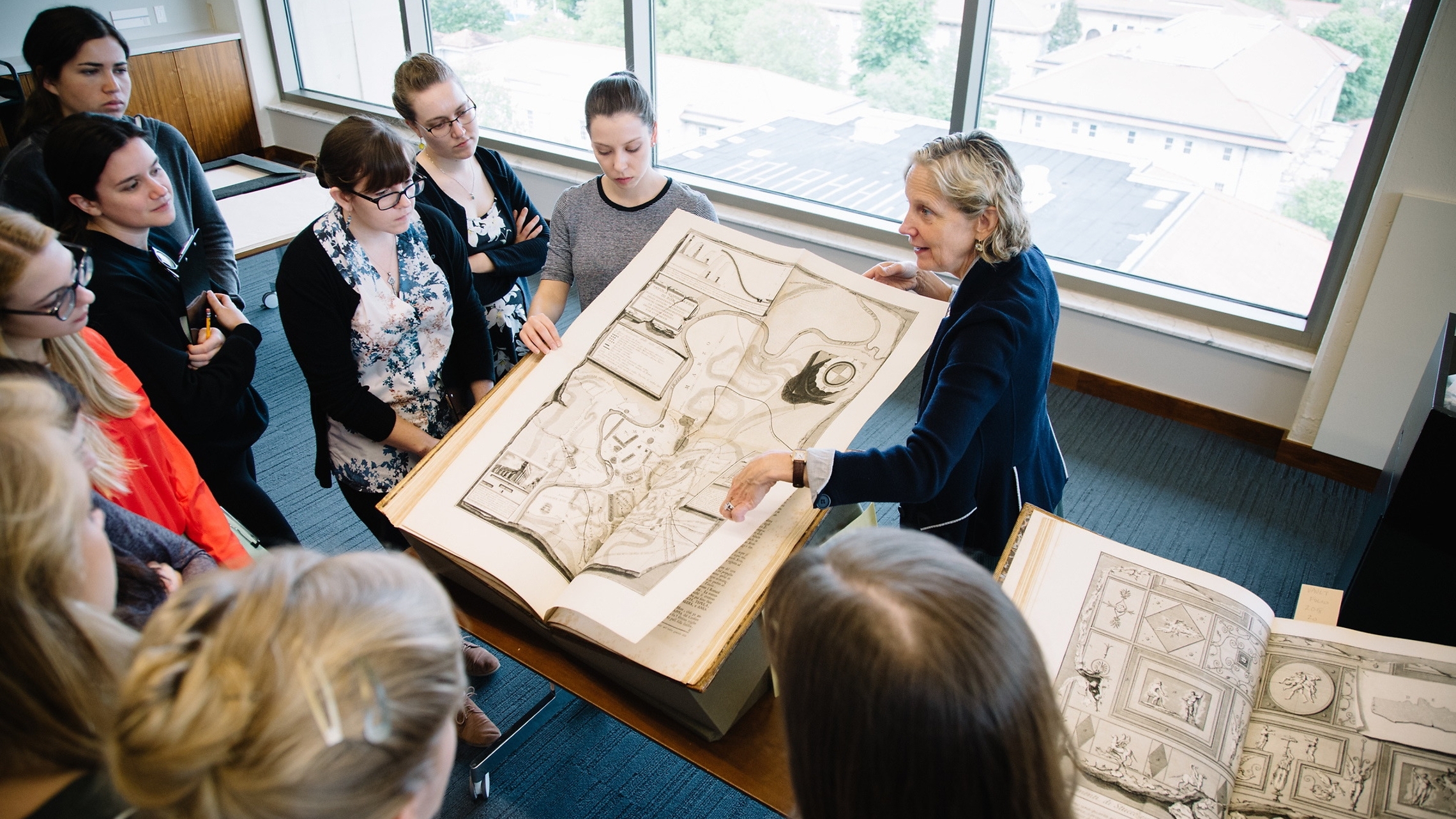 Igniting Intellect
---
In September 1948, two white men came calling at Isaiah Nixon's South Georgia home. When Nixon, who was black, confirmed that he had voted in that day's primary election, they shot and killed him.
Nixon's family fled to Florida, and his grave was lost to time for more than six decades, until undergraduates in Emory's Georgia Civil Rights Cold Cases Project class begin examining the case. They went to the cemetery where Nixon was believed to be buried—and found his grave marker hidden under years of dirt and pine needles. Their discovery helped bring closure to Nixon's daughter Dorothy, by then in her 70s, who was only six years old when she witnessed her father's killing. In gratitude, she invited the students to come with her when she visited his grave for the first time since his funeral so many years ago.
Like many challenging classes offered here at Emory, this one has inspired students to give far more than the course requires. Given the magnitude of the students' discoveries in many of the cases, Atlanta's NPR station decided to produce the podcast "Buried Truths," which explores racially motivated crimes from Georgia's civil rights era. It won a 2019 Peabody Award, as well as the Robert F. Kennedy Human Rights Journalism Award for Radio, for reporting on "human rights, social justice, and the power of individual action in the United States and around the world."
Inspiring Faculty
At Emory, the imperative is always to put knowledge to its highest use—that of changing lives for the better. Our faculty are brilliant teachers, adept at igniting the imagination of their students. Here, students and faculty find the encouragement and resources to expand the boundary of what is possible.
Former US President Jimmy Carter and The Carter Center have been associated with Emory since 1982 in what the president calls "one of the great honors of my life." The center's focus on resolving global conflict, advancing democracy and human rights, preventing disease, and improving mental health creates many fertile points of contact for students and faculty.
In 2019, Carter was granted tenure in recognition of his publications and teaching role. And, for 38 years, he has given first-year students a joyous introduction to Emory through the annual Carter Town Hall. Like all Emory faculty, Carter's concern is for the whole person—helping students appreciate that learning must be continuous and thoughtfully applied to an ever-changing world.
Newer to a teaching role at Emory is Marla Frederick, who recently joined the faculty of Candler School of Theology, and whose expertise helps students appreciate the overlapping spheres of religion, race, gender, media, politics, and economics. With a particular focus on the health, well-being, and strategic possibilities for black institutions, Frederick finds fertile ground for her work both in Atlanta and at Candler, which has a longstanding record of producing first-rate scholarship that engages real-world issues.
Recently, the US Commission on International Religious Freedom discussed ways to combat anti-Semitism around the world. Alongside presenters from the United Nations and Simon Wiesenthal Center was Emory's Deborah Lipstadt, acclaimed for her public scholarship in anti-Semitism and Holocaust studies. She also joins former President Bill Clinton and former British Prime Minister Tony Blair as an expert commentator in a new documentary on anti-Semitism. A dedicated teacher as well, Lipstadt won the 2019 George P. Cuttino Award for Excellence in Mentoring. 
Opening Doors
Emory is dedicated to building community and diversity in every department, program, and office. Latinx studies marks an exciting area of growth—one motivated by student interest and reflecting the university's commitment to studying race and ethnicity across the humanities and social sciences. The university has seen a nearly 16 percent increase in Hispanic and Latino/Latina students during the past five years, and the number of first-generation students is growing as well. A cluster hire brought three new faculty to Emory who are generating research and courses on Latinx topics as well as mentoring our diverse student body. A similar, successful cluster hire in the natural sciences occurred  in 2107.
In November 2019, Emory hosted the 20th-annual Latino Youth Leadership Conference—a gathering whose principal goal is to help students imagine higher education for themselves. More than 150 student guides, many of them Emory Latinx students, led the participants. Those gathered also heard from Emory trustee and alumna Teresa Rivero, the daughter of Cuban exiles, who told them: "By walking, one makes the road. You can make your own road to your amazing life."
This incredible investment in graduate education goes a long way toward keeping the Laney Graduate School as a first choice for both its current and future PhD students.
At Emory, we help students make their own roads in a number of ways, including providing an affordable education to all who are admitted here. That's why our financial aid program meets 100 percent of demonstrated need for every domestic undergraduate.
The university also has made a significant new investment in graduate education by increasing the base stipend for PhD students in Laney Graduate School, representing a commitment of more than $40 million over five years. By investing in graduate education and increasing support for our PhD students, Emory will continue to draw top graduate students and raise the national and international profiles of our distinctive, world-class doctoral programs.
Creative Spaces
It is part and parcel of Emory's culture to be a community of seekers and solvers unafraid of challenging one another. In the past year, the university has added two more spaces where such robust conversations can take place.
A site for big dreams and ideas, The Hatchery—a 15,000-square-foot innovation center—deliberately taps into the liberal arts experience, exposing students to new ideas that spark curiosity and inspire them to take intellectual risks. Beyond the presence of alumni and faculty advisers, students can network with companies, government agencies, and nonprofits.
The Emory Student Center opened in the heart of campus nearly a year ago. In addition to providing a central location for student-centered services, it includes innovative spaces for studying, collaboration, and student engagement. Student input influenced every aspect of the new space, and in line with sustainability goals, it is a LEED Platinum building—Emory's first.
Recognizing that faculty-student relationships deepen student engagement and success, the student center is the site for a special program that, at no cost, enables students and faculty to invite each other to dine. It allows faculty and students to come together in authentic, meaningful ways.
Students Setting a High Bar
The undergraduate population, more than 8,000-strong, features students from all 50 states and more than 100 countries. Seventeen percent of undergraduates hail from abroad, putting Emory in the ranks of schools with large percentages of international students. Beyond their impressive academic credentials, our undergraduate population is also one of the country's most ethnically and economically diverse.
Understanding and improving the world around us, and answering future needs, is a fundamental mission at Emory. A $30 million gift to Goizueta Business School—the largest in its 100-year history—will support a virtual classroom, the use of holograms to facilitate "pop-up" campuses at remote locations, virtual-reality simulations for experiential learning, expansion of the entrepreneurship and innovation initiatives, as well as programming that targets the impact of business on communities and social responsibility.
We are constantly striving to advance learning through collaboration, innovation, and mentoring. As a result, our students are prepared and in demand when they graduate.
For example, Darien "Penny" McElwee credits her parents and Emory with helping her realize her passion. A junior psychology major with a quantitative sciences minor, she has researched everything from minority health disparities to the impact of maternal depression in children. For her thoughtful, compassionate research and campus leadership, McElwee was named one of just 18 Beinecke Scholars nationwide in 2019. The scholarship will allow her to pursue a PhD in psychology, with the goal of unlocking how children develop resiliency.
Emory is fiercely proud of its legacy of cultivating scholars who are unafraid to ask difficult questions and equipped with the intellectual discipline and creative thinking to offer visionary solutions.
---
Read On
---
Guided by exceptional faculty whose teaching and research inspire students to take on the world, Emory's academic mission is nothing less than to push the boundaries of knowledge to benefit society.
Forward Thinkers
After watching his village burn, a South Sudanese child soldier decided to choose help over hurt. Now he's a graduate student who plans to apply his knowledge in his home country.
Read more: Meet This Student of the Real World