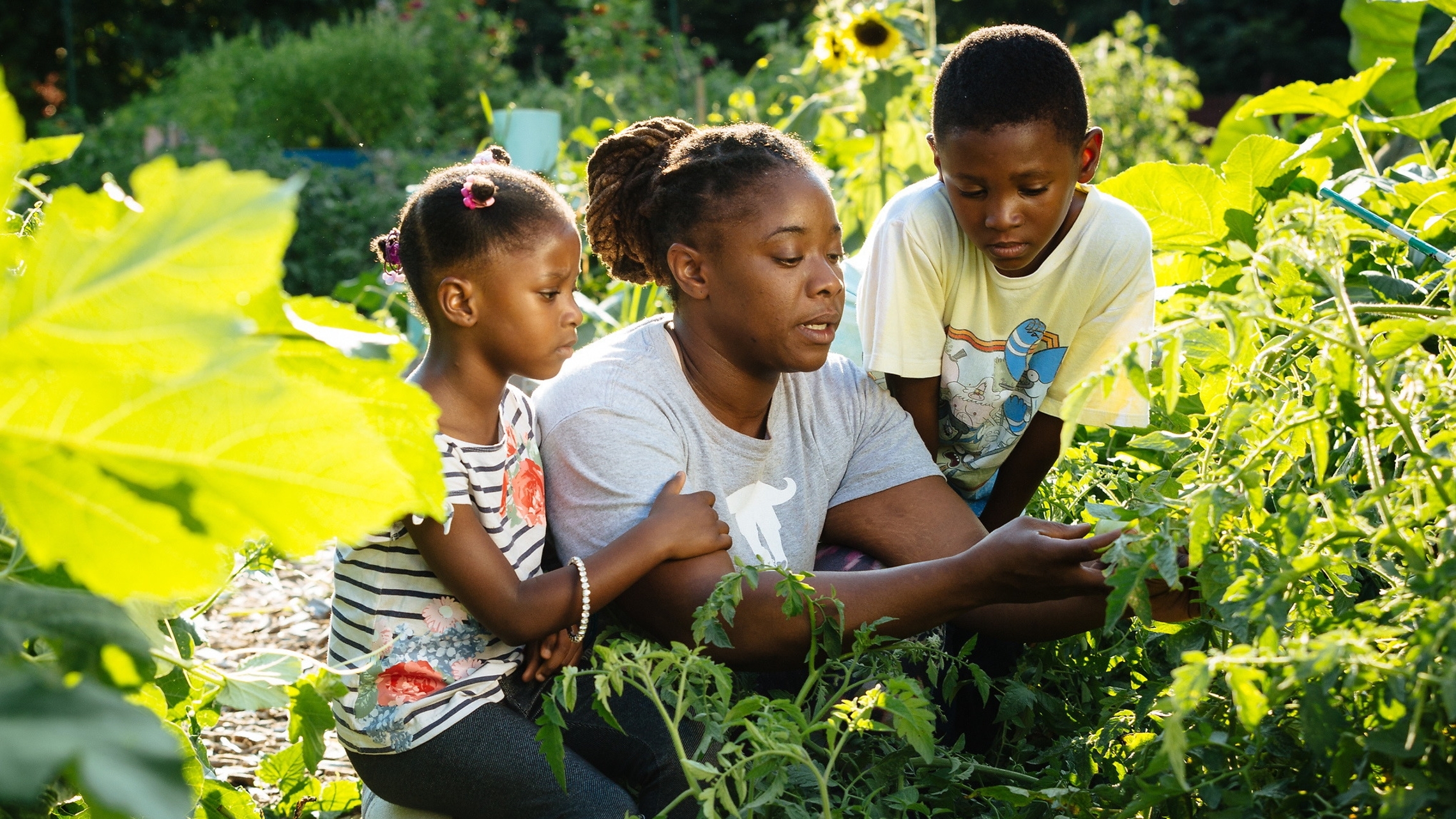 Community
---
Musa Abdus-Saboor knows what it takes to be an electrician, having learned at his father's knee.
What he didn't fully understand were the intricacies of managing subcontractors, keeping up with federal regulations, or setting price points. Finding out about Start:ME made all the difference in his company's evolution.
A free business-accelerator program for small firms that work in or provide products and services to underserved neighborhoods, Start:ME represents a partnership between Emory's Goizueta Business School and community nonprofits. The program has helped more than 200 businesses—84 percent started by people of color and 68 percent led by women—since 2013. 
Start:ME is part of Social Enterprise @ Goizueta, which—in addition to its work empowering Atlanta neighborhoods through entrepreneurship—is also helping to develop the next generation of social innovators, creating cutting-edge research informing business and society, and empowering Central American women farmers. Its current impact report details the success that this action-oriented research center has had in combining academic research with fieldwork programs and student activities to create better markets and support stronger communities. 
Community: A Definition
In the past year, we became the largest employer in the 20-county Atlanta metro region. Even more important than sheer numbers is the ability to be large in spirit—an idea powerfully expressed in Emory's motto, "The wise heart seeks knowledge." Knowing that a more inclusive Emory exerts greater impact, we are at a crucial, promising intersection in that journey. When our faculty, staff, and students bring their whole selves to our shared endeavors, we are stronger, wiser, and better engaged. As the quilt that is Emory grows piece by piece, richly supplemented by our larger community, we cultivate a spirit of unity and are stronger still. That entails veterans sharing their experiences with us during a panel discussion, the state's farmers selling us food for our dining halls, corporate leaders learning from our sustainability efforts, and any of our more than 160 global partners lending us their expertise to benefit humanity. And we are grateful to our alumni for demonstrating, in every corner of the world, what the unique education of the head and heart, as practiced here, makes possible.
Convening Important Conversations
In March 2019, former Emory President Claire E. Sterk hosted the New York Times "At War" section for "A Conversation about the Obstacles Veterans Face in the Civilian Workplace." Nearly 800,000 veterans live in Georgia, which boasts the 5th-highest population of active-duty members in the nation.
The panel discussion examined issues that veterans and their spouses often grapple with when reentering the civilian workforce. They include difficulty transferring professional certifications and licensure across state lines, experiencing a loss of identity, financing next career steps, and special challenges faced by female veterans, including bias in the workplace.
Emory has programs that support veterans holistically—from educational opportunities to legal support to health care.
Additionally, as more universities seek to serve their local communities better, they have turned to the Atlanta Studies Network, Journal, and Symposium as a model. Launched in 2013, the Atlanta Studies Network—representing the academy, government, nonprofits, policymaking, and arts organizations—organizes an annual symposium each spring that is free and open to the public. Emory organized the first one and continues its leadership role as the next chapters are written in our city's story.
Building Bridges of Access
Emory's Office of Government and Community Affairs builds relationships with partners in the government, nonprofit, and business sectors. In the past year, the office led a Community Affairs Task Force whose work resulted in a Community Engagement Strategy aligning the university's mission, vision, and institutional values with purposeful and measurable community-engagement efforts. Three priority areas have been established:
Health and Well-Being. Enhancing the quality of life for all individuals throughout the Atlanta area, with an intentional focus on addressing health disparities and the social determinants of health. 
Social and Economic Mobility. Focusing on income disparities that close gaps in student achievement, generating meaningful local employment opportunities for our future workforce, and intentionally sourcing products and services from local businesses.
Arts, Science, and Cultural Enrichment. Inspiring Emory and the community to collaborate with key stakeholders in defining the creative economy in Atlanta.
Last summer, Carol Henderson joined Emory as vice provost for diversity and inclusion, chief diversity officer, and adviser to the president with the goal of achieving greater cultural fluency across campus. She will help shape an environment in which community members more readily will see themselves in the images, traditions, and culture of the campus and be inspired to bring their "whole selves" to the work they do.
She is grateful for Emory's location in Atlanta, a truly global city that played a key part in the civil rights movement and today represents a diverse citizenry. "Our location," she notes, "provides a valuable geographical endowment. I look forward to partnering with others and leveraging Emory's resources to transform communities."
Healthy Emory
As the region's largest employer, we take seriously the health of our community. Starting in 2013, the initiative known as Healthy Emory got under way with the goal of developing a comprehensive approach to health promotion, well-being, recreation, fitness, and healthy living across Emory for employees, providers, students, and their families. From therapy dogs for our students to healthier options in our dining facilities and vending machines, the impact on Emory's culture has been palpable. Our efforts resulted in Emory's winning the 2019 CompPsych Gold Health at Work Award, given to organizations that support employees with exceptional wellness and well-being programs.
A Lighter Footprint
Emory is a nationally recognized sustainability leader, investing in innovative energy, water, transportation, and land-use solutions in order to deliver community benefits. We recognize, in concert with the United Nations Sustainable Development Goals, that the battle to end poverty, improve health and education, and reduce inequality is also tied to environmental best practices. To ensure local implementation of the goals, Emory founded the Greater Atlanta Regional Centre of Expertise for Education on Sustainable Development in partnership with Georgia Institute of Technology and Spelman College. 
We signed a memorandum of understanding with the Conservation Fund's Working Farms Fund to break down barriers and support next-generation farmers across metro Atlanta. The Working Farms Fund will purchase farmland within a 100-mile radius of metro Atlanta, then lease the land to farmers with a 10-year path to ownership. In turn, Emory will enter into food-purchase agreements with those farmers.
Nearly 40 percent of the food served in Emory dining locations is sourced locally and/or sustainably, some of it coming from the Oxford Organic Farm. Among the nation's top 30 sustainable college-run farms, it provides a hands-on educational experience for students and grows produce for Emory Dining and Emory Farmers Market. In the past five years, student expenditures alone at the Farmers Market have directed $410,000 to local farmers and small business owners, many of whom are women and minorities. And because sustainability is deeply interwoven into the curriculum, 68 percent of students report an increase in sustainability behaviors during their time at Emory.
Sustainability relates to our quality of life. A community is sustainable if economic, social, and environmental systems provide a healthy, productive, and meaningful life for all community residents, present and future.
Thirty-six LEED-certified university and health care buildings—totaling more than four million square feet—signal our deep commitment to sustainable building practice. These include the Emory Student Center, opened in May 2019, which earned LEED Platinum status from the US Green Building Council, and the Emory University Hospital Tower, which garnered LEED Silver certification.
In the past year, Emory diverted more than 70 percent of waste stream from landfills as part of its Zero Landfill Waste commitment. The university's WaterHub is the first water-reclamation facility of its kind in the US, reducing usage by more than 40 percent. If you want to see our sustainability efforts firsthand, grab a ride on one of our Cliff shuttles—the system transports millions of riders annually using biofuel from recycled cooking oil.
Lending a Hand—and Heart
A deep vein of volunteerism runs through Emory, inspiring us to join known causes and mobilize to address new ones. A major milestone each year is the Emory Cares International Service Day, now in its 16th year. In 2019, more than 1,200 students, faculty, staff, and alumni participated in 92 projects in 73 US cities and 12 countries. This represents roughly 3,772 hours of service for projects associated with education and literacy, homelessness and poverty, food insecurity, disability and special needs, sustainability, intimate partner violence, and animal abandonment. 
Our collaborations with Atlanta-based institutions such as the US Centers for Disease Control and Prevention, Task Force for Global Health, The Carter Center, and CARE produce boundary-defying work that serves humanity and strives to improve conditions—locally and in countries around the world.
Alumni Building Community
---
Service is clearly in the Emory DNA, as more than 81,000 alumni continue the practice by volunteering regularly in their communities at a rate nearly double the national average. And about one-third of our alumni elect to remain in the Atlanta metropolitan area, enriching their communities as tomorrow's leaders in business and industry, the arts, churches, courtrooms, social services agencies, and health care. Here are five members of that impressive cohort.
Revolutionizing a Wasteful Textile Supply Chain 
Stephanie Benedetto 06L
2019 Emory Entrepreneur Network winner
Category: Emerging
Queen of Raw CEO and Co-founder
New York, New York 

Thanks to Hollywood star and entrepreneur Ashton Kutcher, Stephanie Benedetto 06L has been able to transform Queen of Raw from a bootstrapping company on a shoestring to the thriving company it is today. Grand prize winner at the 2018 WeWork Creator Awards, hosted and judged by Kutcher, Benedetto credits the $360,000 prize money for giving Queen of Raw the last push to make it to launch.
On a mission to solve the world's water crisis, Benedetto's Queen of Raw is a platform for business to recapture value from their wasted materials instead of burning them or sending them to a landfill. The company matches buyers with sellers. The wasted raw materials are sold quickly and at affordable prices, giving people access to materials they didn't have before.
So, how does this solve the water crisis? Each scrap of wasted material contributes to the crisis—more than 700 gallons of water is needed to produce just one T-shirt. Since Queen of Raw's launch, the company has enabled businesses to sell more than $120 billion dollars' worth of excess fabric.
All Hands on Deck to Help Patients
Chris Hermann 19M
2019 Emory Entrepreneur Network winner
Category: Health care
Clean Hands—Safe Hands Founder and CEO
Atlanta, Georgia 
Chris Hermann 19M combined his medical and engineering degrees to come up with a seemingly simple solution to prevent healthcare-associated infections by creating Clean Hands—Safe Hands technology. Most medical professionals wear some sort of badge reel attached to their collar or belt to house their credentials. Hermann's technology replaces that reel with one that has embedded Bluetooth technology to communicate with sensors at hand-washing stations in patient-care areas. If a clinician walks in or out of a patient's room, the sensors detect the movement. Then the clinician has a certain number of seconds to dispense the sanitizer or soap. If not, a voice reminder pipes up and says, "Please sanitize."
Those two words have been revolutionary. In the 10 most recent hospital installations, data was gathered for six months, showing a decrease in healthcare-associated infections by more than 60 percent. That translates to preventing almost 400 healthcare-associated infections, saving almost $10 million and about 40 lives per year.
Measuring Her Success in Deeds, Not Words
Jodi Rosenbaum 97C
2019 Emory Entrepreneur Network winner
Category: Social Enterprise
More Than Words
Founder and CEO
Boston, Massachusetts
More Than Words (MTW) is just that. More than 15 years ago, Jodi Rosenbaum 97C launched the bookstore and program for at-risk youth from her basement in Waltham, Massachusetts. This year alone, MTW has employed and empowered almost 400 youth, all of whom are either in foster care, homeless, or involved with the court system. Each participant spends 20 to 30 hours a week working in the store to manage all aspects of the MTW online, retail, pop-up, and wholesale bookselling businesses, which generated approximately $4M last year. And when the youth are not working in the business, they are working on themselves—partnering with MTW staff, who conduct intensive case management with the goal of helping them learn life skills and plan for their future.
His Surname Speaks to What He Does Best
Curley Bonds II 87C
Chief Medical Officer, Los Angeles County Department of Mental Health
Winner, 2019 J. Pollard Turman Alumni Service Award

His goal in life? It only takes Curley Bonds seven words to state it: "to leave the world a better place." And he clearly has quite a track record so far.
Bonds serves as the chief medical officer of the Los Angeles County Department of Mental Health, tasked with ensuring the entire 10.5 million population has access to medical care, especially the un- and underinsured. His oversight includes responsibility for seeing more than 250,000 people a year.
He has faculty appointments at Charles R. Drew University of Medicine and Science (CDU) as well as at UCLA, where he is the former chair of the Department of Psychiatry. His work at CDU is focused on training and providing care to underserved populations of color. At UCLA, Bonds works to train a generation of psychiatrists with the hopes that the needs of Los Angeles County will be met.
He also has a small, private psychiatry practice and serves as chair of the board for the AIDS Healthcare Foundation, a global health organization with a presence in more than 40 countries working to ensure people have access to cutting-edge care with less stigma.
A former president of the Los Angeles chapter of the Association of Emory Alumni, Bonds also was a founding member of the Emory College Alumni Board, on which he served two terms. 
When he found out that he had been selected for Emory's Turman Award, he responded with gratitude and just a touch of shock, saying, "I don't work in a field that has a lot of glamour and glory. I am a public servant essentially."
Breaking Bread—and Barriers
Ariel Fristoe 98C
Founder and Artistic Director of Out of Hand Theater
Organizer of Decatur Dinners

Following the model of Chicago Dinners—which advanced the work of racial healing by hosting conversations among friends—Fristoe, along with community organizer Clare Schexnyder and Dietra Hawkins of One Small Change, joined forces to do the same thing in Decatur in August 2019. For some time, Out of Hand has done an annual show in homes—one-act performances on a social justice topic that are followed by community conversation. 
The Out of Hand experience, though, was limited to one show per night. Fristoe, Schexnyder, and Hawkins wanted to scale it up to 100 performances on the same night and add 100 dinners for a total of 1,000 attendees. Interest was so great that they opened up 20 extra tables at the last minute. 
The event was free, dinners were potluck, and anyone in Decatur was welcome to attend. As Fristoe notes in a first-person account in Emory Wire, "Decatur is a special place. I'm tempted to say that this event could not have come together so swiftly or with so much community support in most other cities. But Decatur is not perfect; it struggles with many of the same issues around race that face most, if not all, American communities: inequities in income, economic mobility, housing, education, health, and criminal justice; microaggressions suffered on a daily basis by people of color."
The dinners were repeated, in September and then again in November, and now Fristoe and her allies are finding themselves being asked by people in cities around the country how to bring a similar event to their communities.
Says Fristoe, "We hope to spark a national movement—thousands of strangers joining in conversation across our great nation, in homes and secular spaces and houses of worship of all kinds, buoyed by the empathy-building power of art and the communal experience of sharing a meal."
---
Metro Atlanta Partnerships
---
Roll over the partner name to learn more.
Alliance Theatre
American Cancer Society
Atlanta Braves
Atlanta Committee for Progress
Atlanta Falcons
Atlanta Hawks
Atlanta Regional Commission
Atlanta Public Schools
Atlanta Science Festival
Atlanta Studies
Atlanta Urban Debate League
Atlanta VA Medical Center
The Carter Center
Center for Behavioral Neuroscience
Centers for Disease Control and Prevention
Central Atlanta Progress
Children's Healthcare of Atlanta
Clarkston Community Health Center
Clifton Community Partnership
The Coca-Cola Company
DeKalb Chamber of Commerce
Delta Airlines
Georgia Bio
Georgia Clinical and Translational Science Alliance
Georgia Institute of Technology
Georgia Research Alliance
Georgia School-Based Health Alliance
Georgia State University
The Goizueta Foundation
Grady Memorial Hospital
The James M. Cox Foundation and Cox Enterprises
The Marcus Foundation
MARTA
Metro Atlanta Chamber of Commerce
Morehouse School of Medicine
The O. Wayne Rollins Foundation
The Ray C. Anderson Foundation
RCE Greater Atlanta
Refugee and Immigrant Health and Wellness Alliance of Atlanta
Regional Business Coalition of Metropolitan Atlanta
The Robert W. Woodruff Foundation
Southwest Airlines
Start:ME
The SunTrust Foundation
The Turner Foundation
WABE
The Zeist Foundation
Read On
---
Emory's vision statement calls on community members to work collaboratively to achieve positive change locally and globally. From faculty to staff to students to alumni, it is a call that is resoundingly answered.