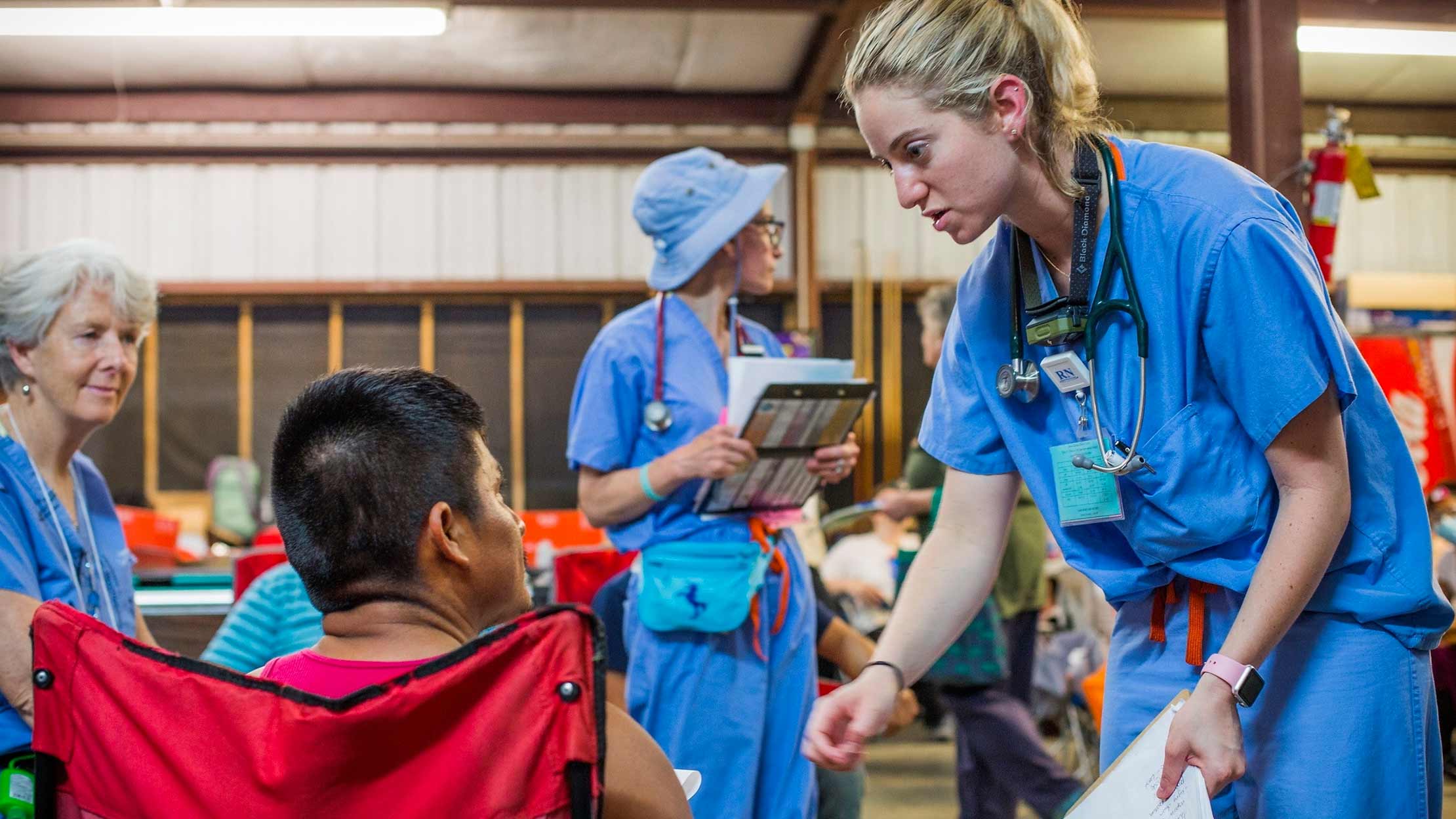 Caring and Healing
---
A fiery motorcycle crash left 20-year-old Jalen Richardson with 3rd-degree burns over 70 percent of his body. He was rushed to the nationally renowned Grady Burn Center, staffed by Emory physicians, where he was put into a months-long medically induced coma.
After a year-long-stay, which included a dedicated team working around the clock, 14 surgeries, and a special therapy dog, Richardson left the burn center to reclaim his life. He rejoined his Georgia National Guard unit, bought his first home, and resumed his habit of going on long runs—now with his dog.
Making and keeping people healthy is both our vocation and passion. As one of the nation's leading academic health centers, Emory's Woodruff Health Sciences Center transforms health and healing in our backyard and across the globe. Whether it's treating complex cases like Richardson's or analyzing causes of child mortality in Africa, our physicians, nurses, public health experts, faculty, postdocs, and graduate students engage in teaching and research that informs and benefits patient care.
Caring for Georgians
As Georgia's most comprehensive health care system, Emory Healthcare is known for treating the most challenging and complex conditions as well as serving all basic health care needs. Our physicians provide the majority of care at Grady Memorial Hospital—one of Atlanta's two Level 1 trauma centers and a critical community resource—and the Atlanta VA Medical Center. Emory's Winship Cancer Institute is the state's only National Cancer Institute–designated Comprehensive Cancer Center. At the Ponce Center, one of the largest and most comprehensive HIV/AIDS treatment facilities in the country, Emory physicians care for more than 5,000 men, women, and children each year.
Emory Saint Joseph's Hospital has achieved its sixth consecutive Magnet designation—the gold standard for nursing excellence—making it one of only three hospitals in the world to earn this honor. Emory University Hospital has garnered two Magnet designations, and Emory University Orthopaedics & Spine Hospital has earned one. No other health system in the country has had more than one Magnet-designated hospital.
Our local health care footprint continues to grow. With a generous grant from the Wounded Warrior Project, the Emory Veteran's Program has doubled its capacity, allowing it to serve twice as many post-9/11 military veterans.
We have broken ground on three new facilities. The 17-story Emory Winship at Midtown will feature care communities serving patients with specific types of cancer. Emory Healthcare is teaming with the Atlanta Falcons on a new musculoskeletal and sports clinic on the same property as the Falcons' training camp. And we have begun work on Health Sciences Research Building II, a new research space for imaging sciences, biomedical engineering, cardiovascular medicine, emerging infections, and other cutting-edge interdisciplinary research programs.
Tackling Global Concerns
Emory continues to be a national leader in searching for solutions to medicine's most pressing challenges. From promoting healthy aging in men and women with HIV to sharing lessons learned from treating the first Ebola patients in the US, and from enrolling participants in one of the most diverse health databases in history to delivering radical new treatment for epilepsy, we are improving the health of individuals and entire populations.
The Hope Clinic, part of the Emory Vaccine Center, conducts clinical trials for promising vaccines and is part of the country's premier network for vaccine and prevention trials for infectious diseases, including globally emerging diseases such as Ebola, Zika, and Chikungunya. Emory, which provides medical direction for Grady Health System's AIDS treatment center, is also a primary site in the nation's NIH-funded AIDS Clinical Trials Networks and has had a national NIH-designated Center for AIDS Research since 1998.
Training Tomorrow's Leaders
Our schools of medicine, nursing, and public health are part of an academic health center in which learning is interprofessional and steeped in the values of the liberal arts. The medical school provides more than half of the residency training positions in the state, thus serving as a critical recruiting base for Georgia's physician workforce.
The Nell Hodgson Woodruff School of Nursing ranks 5th among the nation's best graduate nursing schools in U.S. News & World Report. It is 5th with regard to NIH research funding and tied for 1st in the number of grants awarded last year. The Rollins School of Public Health—ranked 6th nationwide for NIH funding—is 5th in the U.S. News & World Report rankings and works around the world with such partners as CARE, The Carter Center, and the Task Force for Global Health.
Individually, these school and department rankings are truly impressive achievements. Taken as a whole, they paint a picture of Emory's Woodruff Health Sciences Center as one of the top-tier research institutions in the United States.
Providing Help and Hope
Serving those in need is at the core of the mission of Emory's faculty, staff, and students who work with underserved patients and populations both close to home and far away. Emory last year spent $688 million in community benefits to improve the health care of Georgians, including $151.5 million in charity care, while researchers worked to find new ways to prevent and treat disease and to make care more accessible and affordable.
From gifted medical professionals who work together to ensure equal access to the sick and injured regardless of their ability to pay, to compassionate students who understand that sometimes doing the most good means meeting people at their point of need, to brilliant and dedicated scientists who are working to prevent disease before it even starts, the Woodruff Health Sciences Center has an immeasurable impact on our community and its people when we combine our strengths in service to others.
---
Read On
---
Read more about the exemplary caring and healing provided by Emory Healthcare and Emory's Woodruff Health Sciences Center.